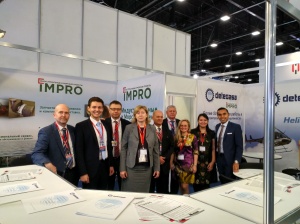 IMPRO company has taken part in the 14th International Maritime Exhibition and Conference NEVA 2017 for civil shipbuilding, navigation and ports operation, as well as ocean and shelf development (Saint-Petersburg).
We are proud of the strong relationships with our business partners, their unfailing support und high confidence in our cooperation. We shared a joint booth with our Spanish partner Detegasa, one of the world's leading manufacturers of marine equipment.
A representative of the Finnish company VEO Oy, specializing in development and production of power supply and automation systems for shipbuilding and industrial facilities, was present at the booth as our special guest and long-term partner.
A number of business meetings with our Russian and international partners and discussion of current issues and industry news became an important part of our exhibition activities. The exhibition served as a great forum for fruitful negotiations with our prospect customers and mapping out of plans for future cooperation.