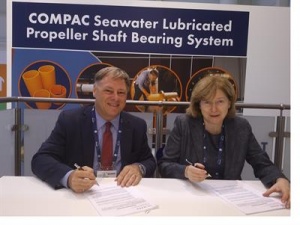 Industrial & Marine Projects (IMPRO) signed sales and distribution agreement with Thordon Bearings on the 12th of October, 2018.
Thordon Bearings sphere of competence is oil and grease-free bearing systems, seals and other shaft line products for the global marine, clean power, pump and industrial markets.
Thordon's Regional Manager in Europe George Morrison said that the expansion of Thordon's European sales and distribution network with the appointment of IMPRO aims to help "facilitate shipowners' move towards a safer, more cost effective bearing solution, while ensuring they remain environmentally compliant."
Vladimir Potapov, Special Projects Director, IMPRO, said: "There is a real trend towards more environmentally-acceptable solutions capable of providing shipowners with a return on investment. With ecological-related problems now affecting many of the world's seas, particularly the Baltic Sea, Caspian Sea, and the Northern Sea Route, a water lubricated propeller solution is just one way that shipowners can help reduce shipping's impact."
Potapov added: "As Thordon's new sales and distribution representative in Russia and Azerbaijan, we strive to maintain the company's existing client base and create new business opportunities. The agreement supports our current business portfolio and will help boost both companies operations in these regions."
With a strong sales support and engineering division working in St. Petersburg, Moscow, Vladivostok and Baku, IMPRO will represent Thordon Bearings across Russia and Azerbaijan.