Description
Dredge Applications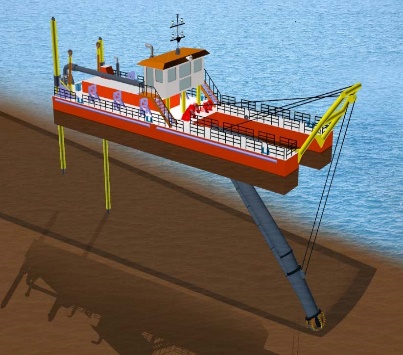 Dredging: Excavation activity/operation carried out at least partly underwater in shallow seas or fresh water to gather up bottom sediments and disposing of them at a different location.
A dredger is a ship equipped with a dredge, a device used for removing material (scraping, sucking, lifting, etc.) of material from under water.
Why Composite for Dredgers?
Ladder and cutterhead bearings operate in a very harsh environment. Bearings must maintain a maximum in-life service time for the dredger while enduring the high abrasive content in the water and the high shock loading associated with the dredging of bedrock.
PROVEN TECHNOLOGY
Excellent references including world's largest dredge builder (IHC)
Repeat Customers:
Archirodon Construction (Overseas) Co.

HUTA Marine Works Ltd.

M.D.C.

Jan De Nul N.V.

Weeks Marine

Great Lakes Dredge

Norfolk Dredge
Composite has been used since early 1970's
Outperform rubber by at least 2:1
Thordon ladder (cutterhead intermediate line shaft) bearings, usually Composite, offer the following benefits to the owner:
Uses seawater for lubrication

Eliminates grease and greasing system

No pollution

No clean-up after dredging

Improved safety for crew (no slippery ladder from grease contamination)

Lower maintenance costs

Able to change bearing with shaft in place

Ship's crew can change bearing

No grease purchases

High abrasion resistance

Less friction; no noise or vibration

Accommodates edge loading caused by shaft misalignment

Greater impact resistance/resilience
Thordon Composite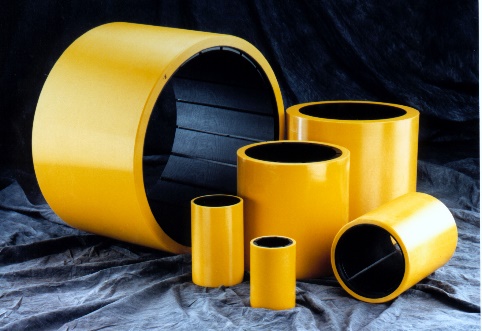 Thordon Composite bearings are specially formulated to provide longer wear life in highly abrasive and dirty water conditions, such as river boat propeller shafts and suction cutter head bearings on dredges. Composite has proven to last at least twice as long as rubber bearings in extreme environments.
ThorPlas-Blue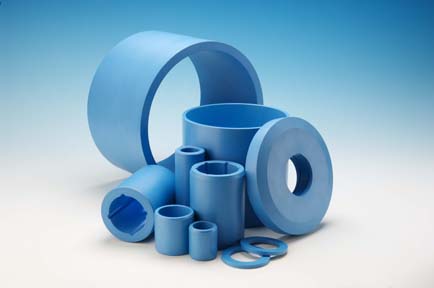 Ensuring reliable operation of all equipment installed above the waterline is a tough issue for any ship's crew. Deck machinery and steering gear bearings require frequent maintenance and grease lubrication. If routine maintenance is delayed or greasing is overlooked, it has a high cost consequence for the ship owner—seized bearings can cause expensive rope replacement, safety issues as a result of manual greasing, and vibration causing damage to the piston and cylinders.
ThorPlas-Blue is a maintenance-free solution, eliminating a source of pollution. The proprietary engineered thermoplastic bearing is capable of pressures up to 45MPa (6,527 psi); higher pressures may be possible with Thordon Engineering review. ThorPlas-Blue can easily be back fit into virtually all applications where greased bronze is currently installed. A stainless steel or non-corrosive mating surface should be used.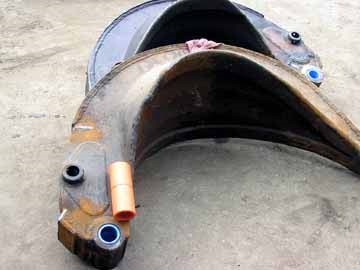 Working body grapple with mounted ThorPlas-Blue bearings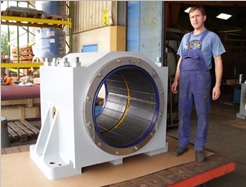 Intermediate Lineshaft Cutterhead Bearings
Installed in November, 2011 on CSD Athena owned by Van Oord, NL
Another set installed on CSD Artemis, April 1, 2013